Welcome to the most unique arena of the rally
In a querry just near Torsby Service Park is a location, build by Swecon, where you can come the rally really close. For about 45 seconds you can follow the cars through turns, jumps and hills before they continue towards the finish line. Here you can follow the finishing stage on Friday and Saturday as well as the price ceremony at Sunday. Big screens and speakers are definitely on site for best visibility.

Rally, service and After Rally
The party starts on Friday afternoon with SS 8 Torsby Sprint 1. On Saturday the last stage SS 16 Torsby Sprint 2 is taking place at 15.00. Afterward you can head back to the service place, watch the cars being served and enjoy After Rally in the restaurant tent – Friday until 23:00 and Saturday until 24:00.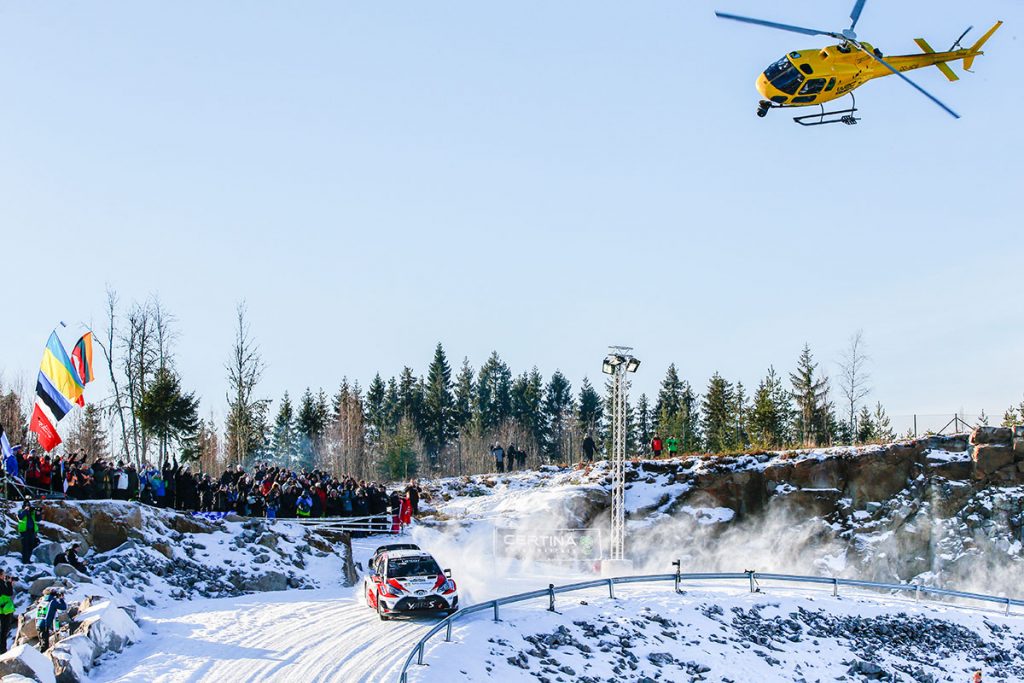 Finish and prize ceremony
On Sunday the prize ceremony is will take place at the Service Park at 15.00, after the finish of Wolf Power Stage SS18 Likenäs.


Programme

Thursday 13 february

12:30
Meet the crews, Torsby Service Park
20:00
All live WRC SS 1, Torsby Service Park
Programme

Friday 14 february

06:47
Service, Torsby Service Park
08:30
WRC All live, big screen, Torsby Service Park
08:42
WRC All live SS 2, Torsby Service Park
10:08
WRC All live SS 3, Torsby Service Park
11:08
WRC All live SS 4, Torsby Service Park
14:00–16:40
Welcome to Swecon Arena. Rally talk with Stig Blomqvist, H.R.H Prince Carl Philip and more, live music – Heatland Boyz ...
14:45
WRC All live, Torsby Service Park
15:00
Start SS 8 Torsby Sprint 1
15:32
Service, Torsby Service Park
15:45
Press conference, Torsby Service Park
16:20
Red Bull Show, Swecon Arena
17:00
Live: Heatland Boyz, Torsby Service Park
Programme

Saturday 15 february

06:47
Service, Torsby Service Park
08:30
WRC All live, big screen, Torsby Service Park
08:42
WRC All live SS 5, Torsby Service Park
10:08
WRC All live SS 6, Torsby Service Park
11:08
WRC All live SS 7, Torsby Service Park
14:00–16:40
Welcome to Swecon Arena. Rally talk with Stig Blomqvist and more, live music – Heatland Boyz ...
14:30
Red Bull Show, Swecon Arena
14:45
Live: Tusse, Swecon Arena
15:00
Start SS 16 Torsby Sprint 2
15:32
Service, Torsby Service Park
15:45
Press conference, Torsby Service Park
17:15
Live: Tusse, Torsby Service Park
17:45
Live: Heatland Boyz, Torsby Service Park
Programme

Sunday 16 february

10:53
Service, Torsby Service Park
10:00
WRC All live, big screen, Torsby Service Park
10:08
WRC All live SS 17, Torsby Service Park - CANCELLED
12:18
WRC All live SS 18, Torsby Service Park
15:00
Podium ceremony, Torsby Service Park