For about 45 seconds you can follow the cars' route through bends, over hills and jumps before they carry on towards the finish line. You can watch the final stage on both Friday and Saturday, as well as the final and perhaps deciding Power Stage on Sunday. Needless to say, there's also a giant screen and commentary on site.
Rally, service and After Rally
The festivities begin on Friday afternoon with SS 8 Torsby. Saturday afternoon at around 14:00 sees the final, deciding stage of Rally Sweden Historic – SS 16 – Power Stage – with the winner being crowned in a finishing ceremony and prize giving at Torsby Service Park straight after the finish. The evening finishes off with the day's final stage, SS 16 Torsby Sprint. Afterwards you are of course welcome to the service park to see the cars being serviced, and finish your day off in the food tent – Friday until 23:00 and Saturday until midnight.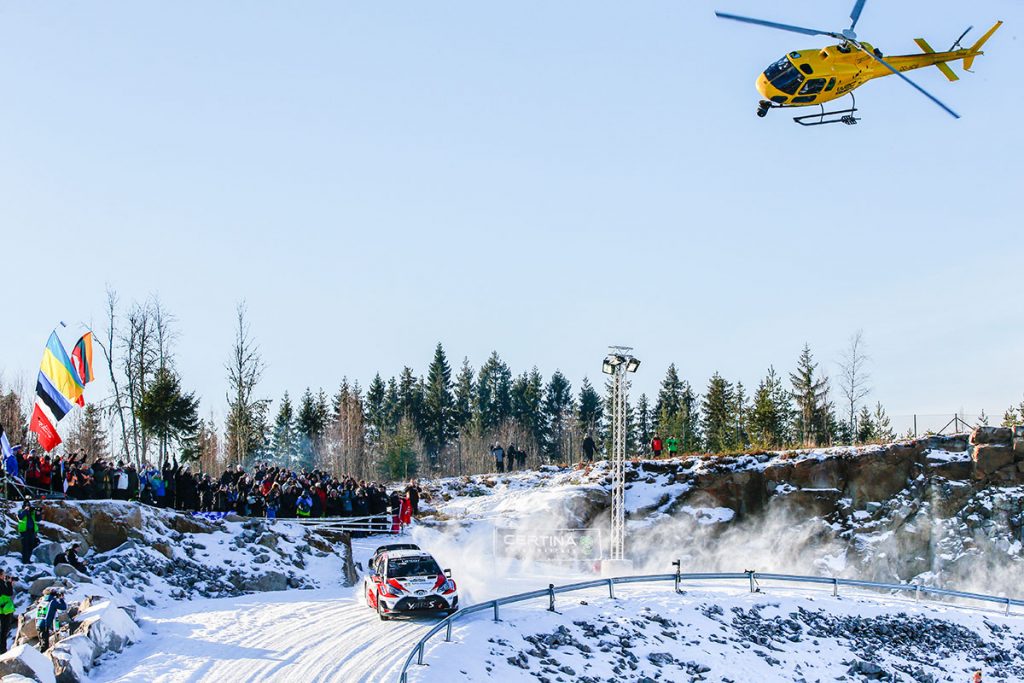 Power Stage, finish and prize ceremony
On the Sunday it's time for the final SS 19 Torsby, which is also the Power Stage with extra WRC points for the five fastest. The first start is at 12:18.  This is also when the winner of Rally Sweden is crowned, and once the cars have passed you're welcome to the service park to celebrate the winner right at the finish line, at around 13:00.
Programme

Friday 15/2

14:09
SS 8 Torsby, Historic
15:17
Live from SS 6 Svullrya 2 WRC
16:08
Live from SS 7 Röjden 2 WRC
17:14
SS 8 Torsby 1 WRC
Programme

Saturday 16/2

13:24
Torsby sprint, Historic
14:00
Finish and award ceremony, Historic
15:08
Live from SS 14 Vargåsen 2 WRC
17:45
SS 15 Karlstad SSS 2 WRC
19:30
SS 16 Torsby sprint WRC
Programme

Sunday 17/2

07:50
Live from SS 17 Likenäs 1 WRC
09:51
Live from SS 18 Likenäs 2 WRC
12:00
Welcome from stage
12:18
SS 19 Torsby Power Stage WRC
13:00
Finish and award ceremony, WRC