Rally Sweden is the first motorsport event in the world to receive environmental certification from the FIA, which clearly shows it is headed in the right direction. Even so, Rally Sweden is aware that much can be improved, and the organisers are always open to innovations and future solutions.
"We want to challenge our partners to think new and think big. We're always happy to hear about solutions we ourselves haven't thought of. If we can't host a sustainable event, we won't have a rally in the future," says Glenn Olsson.

Hybrid technology in fossil-free fuel
Rally Sweden is not alone in its goal-oriented sustainability efforts.
This year, the whole World Rally Championship has made great advancements for the future. That's because the WRC is the first player in global motorsport to combine hybrid engines with fossil-free fuels. This marks a revolution for the entire WRC series, and an important step towards the WRC's goal of being completely climate neutral by 2030.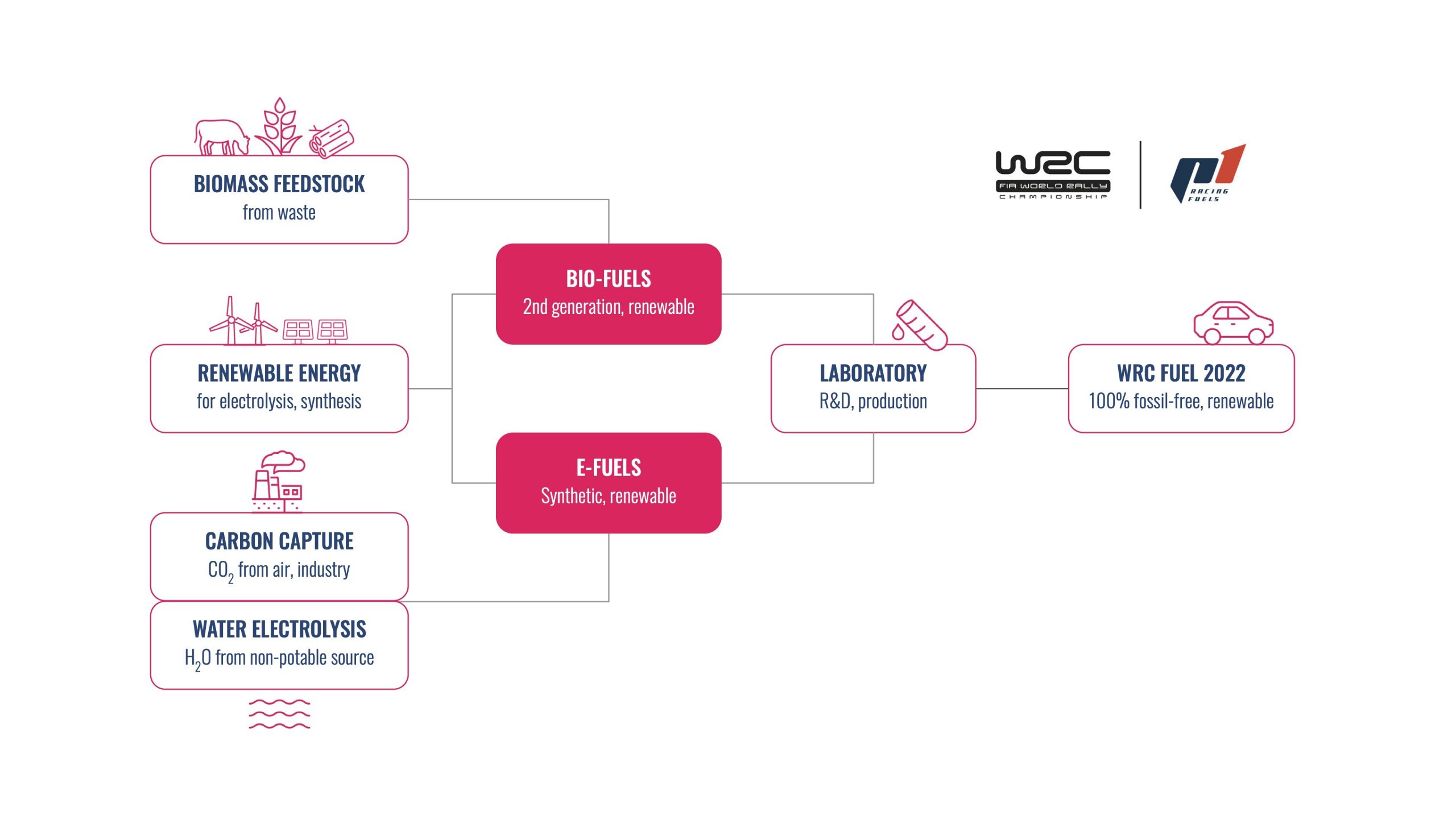 "The introductions of hybrid energy and fossil-free fuel are two of the biggest milestones in the sport's history, and a major step in achieving our overarching sustainability goals [which include e.g. certification of all FIA events in line the sustainability standard ISO 20121, Ed.]. The FIA has worked very hard on this development, while also introducing significant innovations in safety," says Bruno Famin, Director of Operations at the FIA.
Green electricity from Umeå Energi
As Rally Sweden is now hosted in and around Umeå for the first time, the active contribution of all partners to sustainability is an important part of the overall event.
Both the Service Park at Nolia and the specially built The Red Barn Arena at I20 will run on permanently installed green electricity from Umeå Energi, rather than using temporary power stations as before. Assemblin is responsible for all the installations during Rally Sweden, and at The Red Barn Arena the company has been working hard to bury extensive cabling in the ground.
"It has taken a lot of work, but it's a one-off cost and this is a permanent solution that can be used in the future. Everything from the event stage with light and audiovisual to TV monitors, kitchens, exhibitors and so on can now be powered from a permanent installation," says Patrik Lundström, Branch Manager of Assemblin Umeå, with pride.
"Rally Sweden's objectives are completely in line with our own sustainability ambitions, and we share the same view of innovation and curiosity about our new solutions," he says.

However, not all power will be from fixed installations, and this is where temporary power stations come in. Since 2019, all of Rally Sweden's power stations run on HVO100, a renewable diesel substitute. Colabitoil is the supplier of renewable fuel for Rally Sweden. The company is also responsible for heating the tents at the rally.
"When it comes to temporary power stations, there are fewer in Umeå than Värmland thanks to the permanent power installations. We want to continue to help the rally reduce its climate impact, and we've looked at providing the Historic race with renewable fuel," says Magnus Nyfjäll, CEO of Colabitoil Sweden, which is currently planning its own plant for producing fossil-free diesel, petrol and aviation fuel outside Gävle.
Biobag for all waste
Rally Sweden works hard to leave the smallest possible footprint also out in the forests. All visitors along the various stages are given a recyclable biobag to reduce littering. The bags are collected after the rally, and to make sure no rubbish is left behind, Rally Sweden checks again once the snow has melted.

Any residue left after this (total waste for the entire event fell from 21 tonnes in 2019 to 14 tonnes in 2020) – at the WRC arenas, along the stages and at the Service Park – will then be dealt with by Ume Assistance and Lundstams. These companies are responsible for all salvage and sanitation during the rally including skips, bins and eco-stations at the Service Park.
"It's a real honour to win this contract. We are an environmentally and quality certified company, and we use HVO fuel in our trucks, all of which meet Euro 6 emissions. And in March we're actually starting a project to field test a completely electric truck. This could be a good addition to Rally Sweden in the future," says Magnus Hansson, Head of Salvage & Transport at Ume Assistance.
A compact rally with walking distances
The compact, central location in Umeå is another positive sustainability aspect. It is actually possible to park your car from the opening on Thursday to the closing on Sunday, and walk or take public transport between the three WRC arenas: The Red Barn Arena, Skeppsbron. and the Service Park at Nolia.
There will be seven special WRC shuttle buses (by Citybus) between Vasaplan/Renmarkstorget and The Red Barn Arena in connection with the Friday and Saturday races at the arena, and electric bus No. 1 runs to Nolia every ten minutes. And everyone who has a WRC Pass travels free on public transport in Umeå between 24 and 27 February.

"It's important to us to be fossil free.We have 25 electric buses on the standard network, and the non-electric ones run on HVO, which is hydrotreated vegetable oil so fossil free. In 2015 we used 150,000 litres of fuel a month, while in 2021 it was 50,000 litres a month, thanks partly to better vehicles and a good fleet of electric vehicles. We aim to be 100% electric by 2026, and the major challenge here lies in managing power peaks long-term," says Fredrik Forsell, Transport Manager for Umeå Municipality.
Drivers can park at one of two special WRC sites, and parking company UPAB together with Assemblin is providing an extended charging infrastructure.
"This makes it easier to come to the rally in an electric car," says Curt Jonsson, Business Developer at UPAB.
"We can see huge potential in Rally Sweden and their ongoing journey towards a sustainable event. There are several positive climate aspects to the Umeå location, which is really exciting. It's also important to keep monitoring and measuring the overall climate impact, and to gradually advance positions in 2023 and 2024," says Michael Jalmby, Sustainability Consultant from Esam who has stepped into the role of Environmental Coordinator for Rally Sweden.